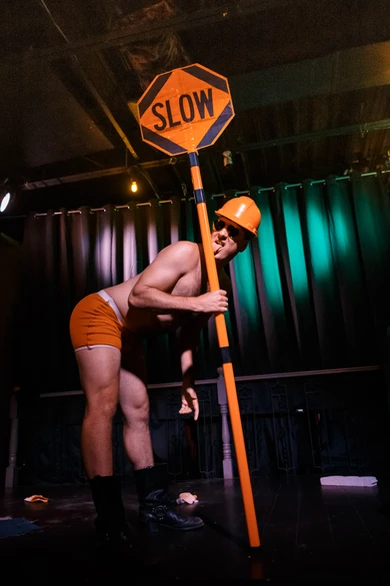 Announcing our 2022 Featured Boylesque Performer James and the Giant Pasty! James & The Giant Pasty is an internationally acclaimed, multi-award-winning burlesque performer/producer/choreographer/teacher based in Toronto, Canada. He has forged a career as an innovative solo performer with smart, funny, and often heartfelt burlesque numbers. He likes to put his best face backwards.

He is the founder and artistic director of Canada's premiere boylesque troupe, BoylesqueTO, a core member of the international touring company Tainted Cabaret, and a professor at Chez BonBon (a school of burlesque). At the impressionable age of fifteen in 1999, James witnessed his very first burlesque show when his uncle snuck him into a theatre in Coney Island. He instantly fell in love with the art form, which led to him to start his career as a burlesque performer in 2008.  In the eleven years following, James has racked up a long list of accomplishments.

James has headlined multiple burlesque festivals, including the Edmonton Burlesque Festival, the Bagel Burlesque Expo, the Philadelphia Burlesque Festival and Ohio Burlesque Festival. His involvement in various projects has led him to perform in prestigious cabarets in dozens of cities across North America. He has performed at the Burlesque Hall of Fame 4 times, including BoylesqueTO's 2018 award-winning "Most Comedic" number, Beaver (which he choreographed). He has garnered many awards for his solo work as well.  He was voted "Best Boylesque" by Imperial Burlesque Canada (2019), won the "Most Beautiful Award" at the Great Burlesque Exposition (2011), and the "Biggest Slapstick Award" at the Boylesque Festival Vienna (2015). On top of his critically acclaimed performance career, he has produced dozens of burlesque shows (including BoylesqueTO's critically acclaimed runs of Oh Manada! ; Mo Manada! ; and A Briefs History of Time at the Orlando and Edmonton Fringe Festivals). He was featured in the television documentary I'm A Stripper: Boylesque (2014 – LOGO, OutTV) and scandalized the nation on Canada's Got Talent.