STAY TUNED FOR DETAILS FOR 2020!
2019 Schedule: Enjoyed the performance?  Getting curious?  Wants to know more or even give it a try!  Come join us for a special "Sunday school" to learn all about burlesque!
Get Down! Now Get Up! Transitions in Floorwork, with Dahlia Fatale
12:30 pm – 2:00 pm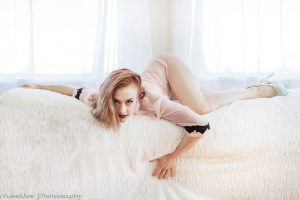 Floorwork is super fun and can make your grinds feel even grindier, but transitions on to and off of the floor can be the bane of the burlesque performer's existence. In this class, we will explore unique ways to get on and off the floor with confidence and poise. Class consists of a stretch and strength warm up, across the floor drills, and a slow-burn combination to tie your newly learned skills together. All bodies are welcome. Knee pads are recommended and heels are encouraged. Come dressed to move and let's get down!
Instructor Dahlia Fatale is a traveling, award winning burlesque performer and instructor. She teaches weekly classes at home in Chicago, and has taught workshops across the US and Canada. As an instructor, Dahlia brings together a unique perspective built on years of dance training, as well as circus training and anatomy education (yes, she's touched muscles from the inside too!), she believes that movement is for all humans and loves watching students learn new and different ways to move their bodies!
Act Development with Ava Lure
2:15 pm – 3:45 pm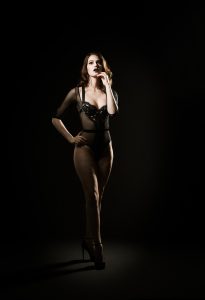 Put on everything you want and then take two things off! In this class, we'll break down the creative process and learn how to transform rough ideas into sparkling masterpieces. With a mix of nerdy stuff from theatre school and practical experience from over nine years of creating burlesque acts, Ava will guide the class through lecture and interactive exercises. By the end of class, you will either have a clear idea for a new act or the tools to level up an existing one. This class will be especially beneficial to individuals looking to perform at festivals.
Ava Lure hails from Vancouver and has performed on leading burlesque stages across the continent, from Victoria to New York City. They have a Bachelor of Performing Arts and is the Founder and Creative Director of The Crystalline Cabaret.
KISS Acts – the art of keeping it simple and sexy with Constance Craving
4 pm – 5:30 pm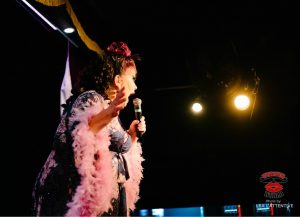 In the musical Gypsy, the strippers sing, "You gotta have a gimmick!" and I am here to tell you that you don't. We'll be playing with the ideas of what matters most on stage, what you need in order to shine like the golden being you are, without being upstaged by the fabulous creations of your hot glue gun. This class will involve a bit of improv but in a fun way. Glasgow and NZ loved it – hopefully you will too.
Attendee Cara had this to say: "One of the most relaxed, informative and inspiring workshops I have ever attended. Constance was a joy to learn from and I can't describe how much she has helped boost my confidence and motivated me into performing."
Constance Craving is New Zealand's Favourite MC with two national awards to show for it; and with 40 years of stage experience behind her, she knows a thing or two about stage presence. She is an experienced facilitator and teaches adults as a part of her "Muggle Job" so it is a pleasure to be able to mash it up and bring those skills to the burly fam worldwide.